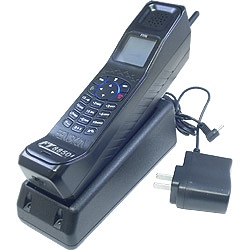 I admit it; I sound like an old fogy when I talk about cell phones. In fact, I might even go so far as to say that I loathe cell phones. I despise the myriad ring tones, the clip-clap noise they make opening and shutting, and all the associates beeps and whistles to alert the owner to unread text messages or unheard voicemails. Above all, I can't stand being next to someone talking on a cell phone. For some reason, everyone who talks on a cell phone seems required to raise their voice to a decibel level above what the average human can ignore.

In any case, however, I am creeping ever closer to the idea of actually--gulp--purchasing one of these devious devices. Those who know me personally may be shocked. It's a huge change of pace for me. I have a stock answer to the ever more frequent query of "why don't you have a cell phone?" "There was a time before cell phones, when people made plans in advance, or actually used pay phones for emergencies, or didn't need to be located at every moment of the day."

Now when I consider the dreadful notion of becoming a cell phone owner, there are many, many considerations. Do I really want to have an electronic tether? Do I really want to pay for an electronic tether? It's bad enough that I tote my MacBook around with me to be able to email from any Wi-Fi offering location. And if I did own a cell phone, would I transform into a cell-yelling, texting, Twittering fiend? And yet, it would be nice to have my own personal, professional voice mail, and to be able to be reached by potential employers while out of the house...

I actually went so far (and this is scary, folks) as to actually go to CNet and compare cell phone plans. Insanity, I know. Particularly since I have a very limited cash flow at present. And very little desire to own a cell phone. I also have very little patience for all the strange functions that can be found in a cell phone--if I owned one, I'd want it to work like my phone at home: Caller ID and voice mail being the only options that I need.

But before I make any drastic decisions, I'd be interested in hearing from other people about their cell phone experiences (i.e.: what provider is the best or cheapest, or any particular things to avoid). So please feel free to volunteer any information as I move closer to the day when I give in to the business of cell phones.